Do you want to start building an e-commerce business on Amazon and trade products on the world's largest marketplace? Fulfillment by Amazon (FBA for short) can help you with that. If you don't know how to start an Amazon FBA business yet, we have something for you: In our Amazon FBA Guide 2022 we explain to you exactly what Amazon FBA is and step by step the way to your Amazon FBA store.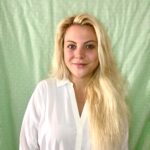 Antonia Klatt
Last Updated on 13 April 2022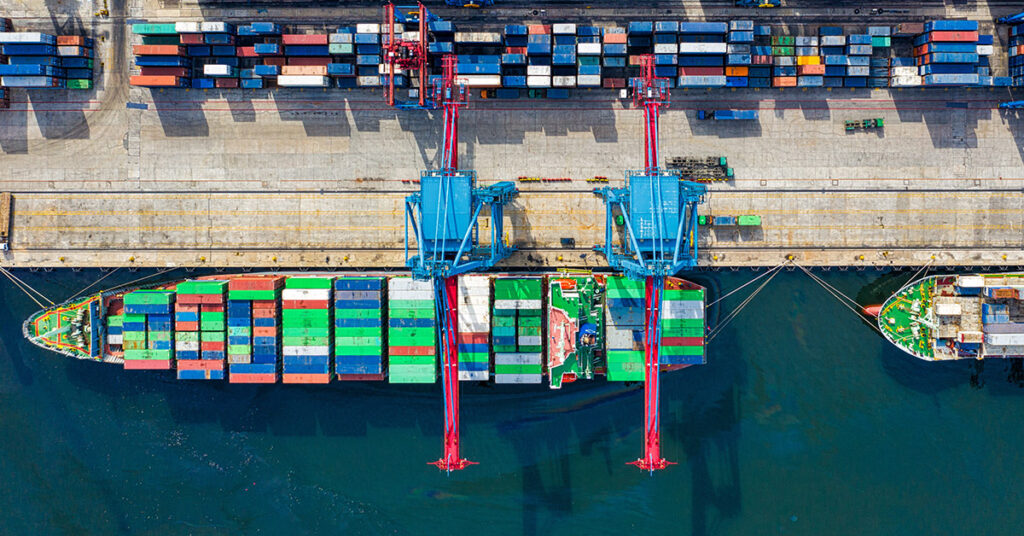 Table of Contents
↓ What is Amazon FBA?
↓ Selling with Amazon FBA
↓ How does Amazon FBA work?
↓ Benefits and risks of Amazon FBA
↓ VAT duties for FBA sellers
↓ A Comparison: EFN, CE or PAN EU?
↓ Is Amazon Fulfillment worth it for me?
↓ Review: Does Amazon FBA still make sense in 2021?
↓ Guide: How to start an Amazon FBA business in US or UK
↓ Losing track of your tax tasks?
↓ Summary
What is Amazon FBA?
FBA is short for "Fulfillment by Amazon". This means that Amazon takes over your logistical order processing for you and gives you the opportunity to focus on product selection, product marketing and product sales.
With this Amazon solution, you place issues such as warehousing, shipping, returns, customer care or invoicing in Amazon's external and experienced hands. This not only saves you time and resources, but also financially. This is because many initiative costs such as storage, shipping processing or returns management are eliminated.
Amazon FBA has become so popular that a whole industry has developed around this offer, from which not only Amazon FBA sellers profit, but also, for example, providers of tools that have been developed explicitly for Amazon FBA sellers.
If you want to sell on Amazon, there is another alternative to FBA: Amazon FBM, which stands for Fulfillment by Merchant. In this case, the merchant takes care of storage, shipping, etc. – in this case, he uses Amazon exclusively as a platform for offering his goods.
Selling with Amazon FBA
Fulfilment by Amazon (FBA) is a service of Amazon which allows commercial sellers to store their goods in local warehouses of Amazon. They will be stored there until an order from close is made and the product will be delivered from the warehouse which is the closest to the customer.
This way, customers get their products very quickly and FBA products are trusted most by the customers.
Related articles
How does Amazon FBA work?
With Amazon FBA it is possible for you to store your products in Amazon logistics centers while Amazon finally takes care of the processing of your orders. To transfer your goods to the logistics centers, you can either hire and use freight forwarders or you can use Amazon's transportation partner program. Here, you also work with freight forwarders, but they are contracted by Amazon at particularly favorable rates.
To participate in the FBA program, you must first register as an Amazon merchant. Once you are registered, you select the "Shipping through Amazon" option in your merchant account to enable FBA.
You now have the option to choose from two different sales plans – Professional or Individual. With Professional you can sell an unlimited number of products and pay a fee of 39,- EUR (plus VAT) per month.
The alternative is the individual plan, where you pay 0.99 EUR per sale – without a monthly fee. That means, as soon as you sell more than 40 products per month, you should rather go for the Professional plan. If you sell less than 40 products per month, it is not worthwhile to use Amazon FBA anyway, because the shipping to the warehouses and the preparation is too much work for Amazon with such low delivery volumes.
Benefits and risks of Amazon FBA
Basically, it can be stated: Amazon FBA offers you many advantages as a merchant. However, these are associated with fees, different obligations and some disadvantages. If the turnover allows it and the target market is mainly in the USA or in Europe, the use of Amazon FBA is generally recommended to Amazon merchants.
Benefits
No own warehouse necessary
Placement in shopping cart field
"Shipping Through Amazon" Logo
Less effort for returns and returns
Prime status and logo
Free shipping for Prime customers
Higher visibility on the platform (because of Prime)
Shipping through Amazon and Prime products are highly trusted
Around-the-clock customer service in local language
Amazon FBA supports growth
Amazon takes over many tasks
Favorable shipping rates
Easy monitoring of inventory
Amazon records item dimensions for storage
Amazon Buy Box
Shipping with tracking
Risks
FBA fees
Appropriate labeling required
Tax registration(s) and regular pre-declarations required
No own branding
Packages with own logo not possible
In addition, it should be noted that there are one or the other regulations to be observed under tax law, since Amazon FBA often means that goods are stored in different countries. In addition, there are the delivery thresholds that can be exceeded during sales, resulting in new tax tasks. Therefore, it is recommended that sales, storage, etc. are constantly monitored, e.g. with tools like our free vat software.
VAT duties for FBA sellers
As mentioned before, using FBA requires at least one proper VAT registration as well as ongoing VAT returns. Expansion within Europe can lead to a need of additional VAT numbers (see distance selling).
So, the seller needs to ensure vat compliance, not Amazon. Since 01.01.2019, Amazon is liable for VAT fraud of people selling on the platform. Germany and France for example have passed new VAT laws that makes marketplaces liable for any kind of VAT fraud that happens on their platforms.
To avoid this liability, Amazon and eBay ask sellers to provide them a proof of their VAT registration, a VAT certificate (e.g. in Germany the Form F22). This excludes them from being liable and at the same time allows the authorities to access all sales data from the past.
A Comparison: EFN, CE or PAN EU?
This chapter shall remove the last doubts and show which way of fulfilment is the best for a company taking into account the current size and the turnover. All 4 FBA types will be explained and compared. These are namely, the European Fulfilment Network (EFN), the Central Europe Programme (CE), Pan-European FBA and Multi Country Inventory.
With each of this services, different rights and duties come along. Using the option that fits best to a company in its current state can boost sales tremendously.
EFN: Amazon's European Fulfilment Network
The European Fulfilment Network (EFN) allows FBA sellers to store their inventory in one of Amazon's local Fulfilment Centres all across Europe and fulfil national orders, or orders coming from other European marketplaces, from the same local inventory pool.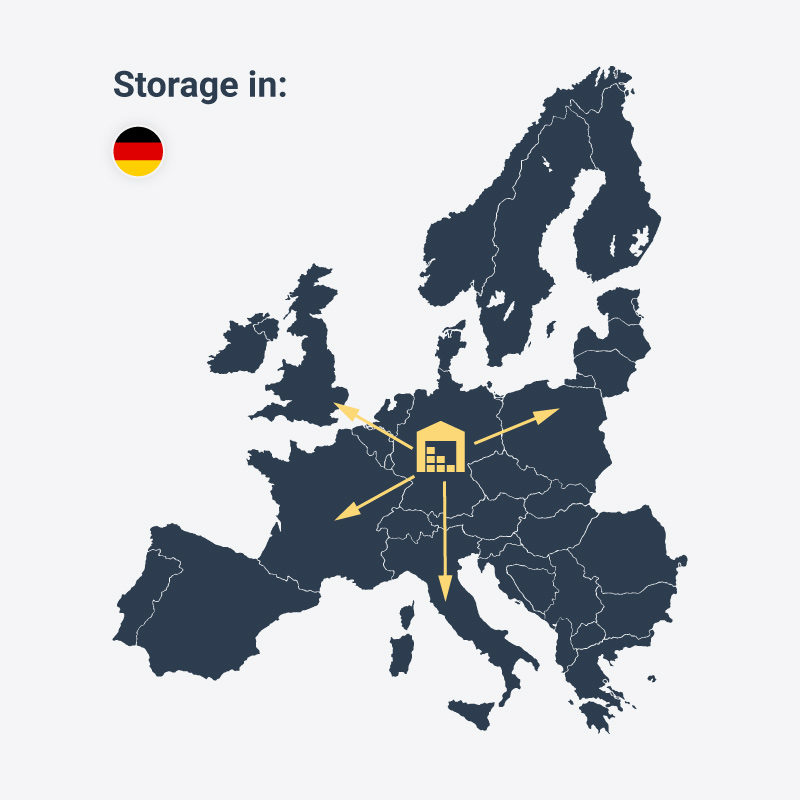 The European Fulfilment Network simplifies the inventory management by keeping all inventory in one local pool, in one Fulfilment Centre, maximizing the control and flexibility of all goods.
FBA inventory can be listed for sale on all of Amazon's European Marketplaces using a single selling account. Orders from these marketplaces will be fulfilled from the FBA inventory using Amazon's fast and reliable European Fulfilment Network.
Here you can find Amazon's fulfilment fees.
Who is it for?
The European Fulfilment Network (EFN), a good opportunity for businesses in the early stage of development. EFN allows you to sell throughout Europe, however, when a certain export limit is reached, storing all over Europe with another FBA type can make more sense. As just mentioned, for the beginning it's just perfect. Especially because it's little paperwork, you get a higher visibility on Amazon and of course the Amazon Prime status.
Advantages
Prime
Only 1 VAT number require
Perfect for small businesses
Disadvantages
Higher storage fees
Higher cross-border fees
Longer delivery time
If EFN is not enough for you and if you are already selling in Germany, the Central Europe Program could be interesting for you.
CE: Central Europe Program:
The Central Europe Program allows storing in Germany, Poland and the Czech Republic. It's ideal for companies that are a little bigger, starting at about a turnover of 500 units/month.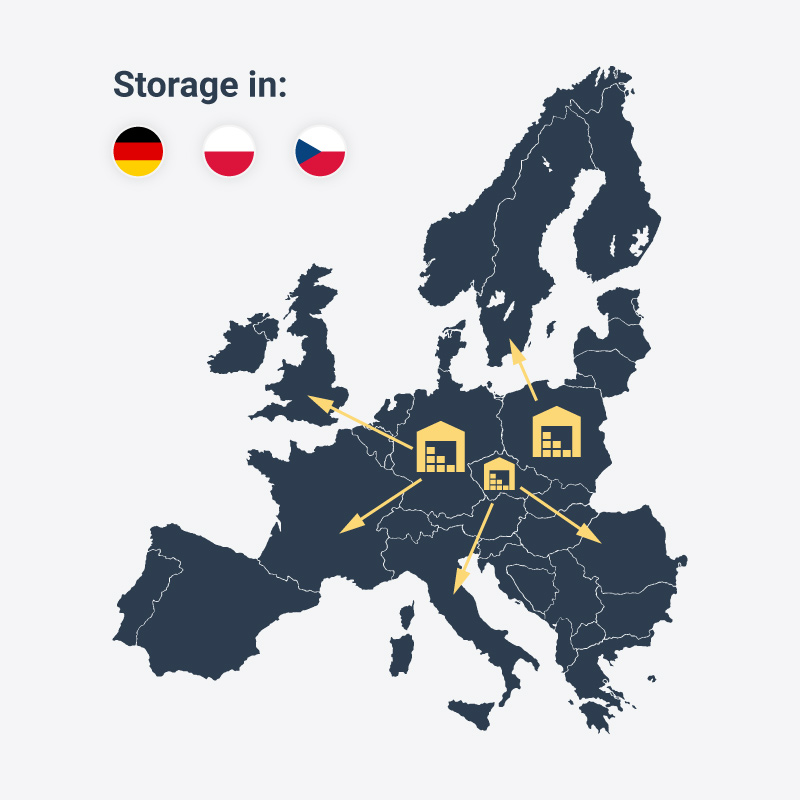 FBA inventory can be stored in all three of those countries, additional fulfilment networks can be used, the fulfilment fees per FBA unit are 0.50€ lower and the shipping efficiency is increased.
Advantages
Lower fulfilment fees (0.50€)
Additional fulfilment centres
Shorter delivery time
Disadvantages
VAT registration in Poland and in the Czech Republic
More paperwork and tax duties
Many sellers opt for the Central Europe FBA program, especially if they already sell their goods in Germany. CEP can be a worthwhile expansion strategy. For Amazon sellers who want to reach the largest possible number of customers in Europe, there is something else: the Pan-European Fulfilment Network.
Selling with Pan-European FBA
Pan-European Fulfilment by Amazon: this service helps FBA sellers to sell their goods to Amazon customers across the EU more efficiently than ever before. Fastest deliveries and the lowest costs are only two of the many benefits. More about that now.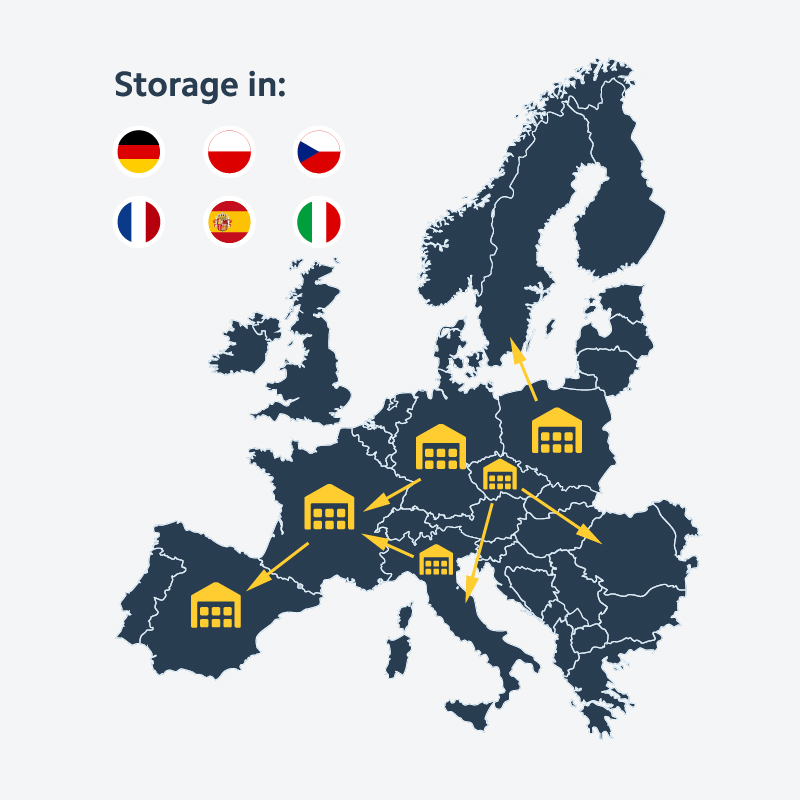 Pan-European FBA enables sellers to deliver their inventory to a local fulfilment centre for Amazon to take care of the logistics; Amazon ships the sellers' products across its European Fulfilment Network according to the anticipated local customer demand. The product will then be fulfilled from the closest warehouse.
The Pan-European FBA service can also help sellers to grow their business by making their products eligible for Amazon Prime, meaning they will have access to millions of Amazon's most loyal customers, along with Amazon's trusted and acclaimed customer service.
Please note that the UK is no longer part of the PAN-EU network since the UK's departure from the European Union.
How Pan-European FBA works:
1. Start:
Sellers enrol products that are eligible for Pan-European FBA.
2. Shipping:
Sellers ship Pan-European FBA enrolled products to a local Amazon Fulfilment Centres, based on the anticipated local demand (no extra costs for the seller);
4. Orders:
When customers order the products, Amazon will handle the fulfilment logistics and provide fast, reliable delivery from the closest fulfilment centre where the product is available;
5. Fees:
For the delivery, sellers will only pay the local fulfilment fee of the marketplace in which the product was ordered, there is no cross-border fee.
Is Amazon Fulfillment worth it for me?
If you want to grow as an online retailer in the USA or Europe and outsource as much work as possible to external service providers, Amazon FBA is a good choice. The costs are kept within reasonable limits in relation to the service and the potential is extraordinarily high, since you get the opportunity to focus on your product and your core business.
As with so many topics, however, it ultimately depends on the individual case – on sales, your target market and many other factors. Calculate your plan in advance and see if it makes sense for you. However, large and successful Amazon merchants usually use Amazon FBA.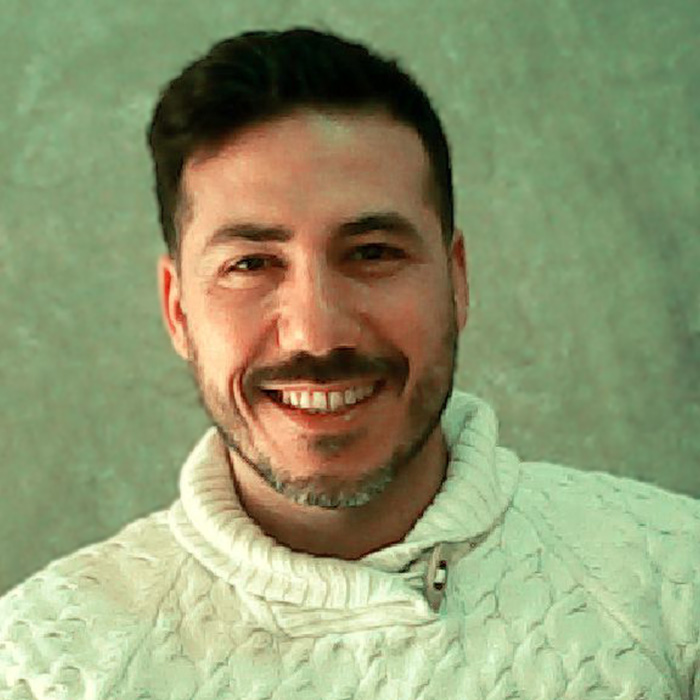 Book a free consultation
Our VAT experts are happy to help you. Book a free consultation today!
The cheap storage and relatively cheap shipping are an advantage. Likewise, the increased visibility through Prime and the fast delivery times will give you a plus point compared to non-FBA sellers. As a rule, FBA sellers will always have an advantage in the long run.
Review: Does Amazon FBA still make sense in 2022?
Interest in Amazon FBA is growing more and more, and word has spread that there's good money to be made as an Amazon merchant. But does retailing still make sense in 2021 – or is there already too much supply? Despite the great competition, we say: Amazon FBA is still lucrative. But the prerequisite is that you stand out from your competitors and score with your USPs.
Of course, this is easiest if you sell products that hardly anyone else offers. But not everything that you rarely find is automatically suitable. Some products are rarely sold because there is little demand for them. Therefore, do extensive research before you decide which products you want to sell. Different tools help with product and trend research, which we will discuss in more detail later.
Not to be forgotten: Of course, there are more and more Amazon FBA merchants. But: In the same way, there are more and more buyers. People are buying less and less in brick-and-mortar stores and more and more online. And if demand grows with supply, that keeps the market lucrative for you as a retailer. Due to the pandemic, purchases are even shifting more and more to the e-commerce sector, from which you can profit accordingly as an Amazon FBA seller.
Guide: How to start an Amazon FBA business in US or UK
If you have now decided to start an Amazon FBA business, there are one or two steps you need to take. On the one hand, to be on the safe side legally and on the other hand, to actually become successful. We have compiled a list of the individual steps that you should ideally take one after the other in order to avoid a bumpy start to your self-employment.
We will start with the activities that you generally have to take care of as an entrepreneur or merchant and then focus on the Amazon FBA-specific steps. If you have already completed individual steps from our list, you can of course skip them. But in general, it is recommended to actually go through all the steps. You will find that becoming an Amazon FBA merchant is actually easy, you just need to invest some time and follow the steps accordingly.
1. The business registration – Founding your Amazon business
The basis for your e-commerce trade on Amazon is quite classically your company foundation. As a merchant, you are of course acting commercially when you offer your products for sale, since any number of people can see and purchase your goods. In doing so, you pursue a profit-making intention, which means that you have to register your business in the US or in a European country. This ensures that your income can be taxed.
There are different ways to start a business in every country – from partnerships to corporations. All have different advantages and disadvantages. Some are particularly suitable for starting a business, some are recommended as your business grows.
Before starting your business, research which form of business is appropriate for your venture in your country and register your company so that you lay the foundation for your new business.
2. Your business account
You are not required to register a separate business account for your Amazon FBA business. We would still recommend it to you, so that you can directly separate your costs, income and expenses from your private payments. In addition, it is possible that your bank, where you keep your private account, prohibits business use. If this is stated in the terms and conditions, the bank may terminate your account without notice.
To preserve your existing capital, especially at the beginning of your self-employment, it is advisable to initially rely on free online banks such as Holvi or N26. The only thing to keep in mind here is that the free starter accounts are usually linked to certain transfer limits. In other words, if you exceed a certain limit of product sales, fees may be incurred – but these are still within reasonable limits in the initial phase.
3. Apply for tax numbers
With the aforementioned business registration, you have already taken the first step towards your new business. Now you also have to register for taxes. Depending on the country, there are usually two types of tax numbers to consider: the VAT ID and the tax number.
You need both to be able to trade internationally and can apply for them at your local tax office. Please note that it can take a few weeks until you are assigned the two numbers – apply for them as early as possible so that the start of your trade is not delayed due to missing tax numbers.
4. Request your EORI number
In the probable case that you do not produce your goods yourself at the beginning of your business, but buy them from producers or suppliers abroad and import them, you need a so-called EORI number (Economic Operators' Registration and Identification). This number is used internationally by customs as a means of identification. With the help of this number, they can query all information about you as a trader, which is a prerequisite for a smooth import process.
Even in case you produce domestically, it is recommended to apply for an EORI number. After all, the procedure is simple and free and makes you flexible for the future.
You do not need a VAT ID and tax number to apply for the EORI number – but you will have to submit them later, which involves additional work. Therefore, ideally, just wait until you have your VAT ID and tax number and only then apply for the EORI number.
5. Find Amazon FBA products
Probably the biggest challenge and the biggest factor in the success or failure of your Amazon FBA business is choosing which products to sell.
The more attractive your product, the easier it will be for you to market and sell it. The decisive factor is not only how many people need your product, but also how many competitors there are who already offer the same or a similar product.
Accordingly, your task is to find a product that as many people as possible need and at the same time as few retailers as possible offer. If you find a product that is in demand but sold by a large number of companies, you will often have to generate revenue through price – which will reduce your margin. Accordingly, you should rather find something where you have fewer competitors and can choose the price more freely.
In order to do that, we recommend that you first do a detailed product research on Amazon. In doing so, you shouldn't just jump on Amazon's bestseller list, but look at what's being sold beyond that. A product that sells frequently but has many sellers is usually less attractive than a product that sells slightly less but where you are one of the few sellers.
Here, among other things, you can closely follow social media to discover possible trends and look at what people are searching for – whether it's on Google or Amazon directly.
When researching products, also make sure that the demand for a product is not temporary, but at least seasonal or, in the best case, permanently high.
6. Product acquisition via Alibaba or alternatives
If you have identified a product in the product research that you would like to sell, you must now procure it. However, setting up your own production facility is very costly and time-consuming and is therefore rarely an option, especially in the initial phase. It is more efficient to work with partners who manufacture these products and sell them to you.
You can find corresponding producers on the B2B trading platform Alibaba, for example, where they already offer finished products or cooperation for new productions. Maybe dropshipping is the right thing for you?
Either way, it always makes sense to first try out products from different manufacturers to compare their quality and reliability. After all, whether you sell your product successfully in the long term depends heavily on its quality.
Other platforms
Alibaba may be the most popular trading platform where you can find manufacturers for your products. However, there are still two good alternatives that you should check out: GlobalSources and DHGate.
The former is very comparable to Alibaba and almost on par. In many respects, the two platforms are the same, but the selection process for manufacturers is much more demanding at GlobalSource. The effect of this is that only real producers are listed and not, for example, middlemen. This increases the quality of the products and the price-performance ratio.
DHGate is less known than the two competitors, but similar in the way it works. The advantage of DHGate is that there are smaller and economically more attractive producers, which leads to lower purchase prices for you.
7. Finishing the product
You're now big steps ahead: after you've completed the product and manufacturer search, you now need to finalize your product and prepare it for sale via Amazon FBA.
Legal tasks
First, check whether your product may infringe any existing patent rights. This is especially useful if you plan to order large batches of a product.
Logo and packaging design
Consider what values your brand stands for and which target group it should appeal to. From the answers to these questions, develop a design identity for your brand that should be reflected in the logo on your product and in the packaging. This way you can create a wow and a recognition effect and bind your customers to you in the long term.
Acquire EAN number
To be able to store your product on Amazon using FBA, you need an EAN number. Each product must have a unique EAN number to make it uniquely identifiable. The EAN number makes it possible for Amazon and your customers to recognize and find the product at any time. Depending on the country you live in, the point of contact for EAN numbers differs. In Europe, for example, an EAN number costs 230,- EUR once or 150,- EUR annually.
8. Create great Amazon listings
To succeed with Amazon FBA, there is another crucial factor besides the ideal product: your Amazon Listing. The Amazon Listing is the view of your product on Amazon, incl. photos, title, description, etc..
If you want to make your Amazon listing promising, you should make use of sales psychology logic and likewise pay attention to the Amazon algorithm.
In the first case, you describe the product in a promotional way and create incentives to buy. In the case of optimization for the algorithm, you create content through which users can find your product when they enter certain suitable search terms. Your Amazon listing consists of different relevant elements for your product.
Title
In the Amazon product title you enter the name of your product. It should not only state the specific name, but also the type of product and the most relevant product features, including the USPs. However, you only have a space of 200 characters, including spaces. If you want it to be displayed in full on Amazon at all times, you only have 120 characters.
Means: You can include only the most important points. Since the title is particularly relevant for Amazon's search algorithm, you should try to include the words that users would most likely search for when looking for a product like yours.
Bullet points
The Amazon title is followed by the bullet points. Here you should present the concrete customer benefits of your product. Put the advantages of your product in the foreground, not descriptive factors such as technology, etc. – unless the technology is the special USP of course.
You may enter a maximum of five bullet points, each of which may be a maximum of 200 characters long. Therefore, the same applies here: Write concisely and expressively!
Description
The bullet points are followed by the description of your amazon FBA product. This can be more detailed and use storytelling to promote your product. Here you can go into detail about the USPs and the advantages of your product and explain why the readers need your product.
The description is not only important to convince readers to buy, but also to fill Amazon's search algorithm with data. So that Amazon knows for which search terms your product should be displayed. So you should make sure to include the terms in your description where you should be found.
Keywords
In the keywords you can now enter exactly the keywords that fit your product on the one hand and are searched for by your potential customers on the other hand. The maximum character length for your keywords is 250 characters. If you use more characters, Amazon will simply ignore your keywords.
You can safely omit the keywords that you have already used in the title or description, as these are already taken into account by Amazon. Use the 250 characters for keywords that you have not yet used and increase the probability that your products will be discovered via search.
Images
The last thing that becomes relevant is the selection of your product images. Of course, they should show your product from the best side – but at the same time unadulterated. Otherwise, the disappointment is great when the customer receives your product and it does not meet his imagination. The photos are crucial for the purchase decision and should therefore be selected carefully and taken as professionally as possible.
It is best to show the intended use of your product directly in the photos. So that users not only see the product itself, but also directly at a glance, what they can do with it.
Losing track of your tax tasks?
Now you know how to start your Amazon FBA business, find products and start selling. Once you have your first sales, you will soon have to deal with another issue: taxes. You should always keep these in mind – not only when setting prices, but also in your everyday life. Otherwise, the tax office might show up at your door and threaten you with severe penalties if you file your taxes too late or exceed VAT thresholds without registering for taxes in foreign countries. Amazon, as the marketplace is liable for VAT, might even suspend your seller account.
To ensure that you always have your figures under control and are on the safe side in terms of tax law, we have developed a FREE VAT Software, which is tailored to Amazon FBA merchants and ensures that your advance sales tax/VAT reports and returns are submitted on time and correctly. Responsible for this is our double check with the help of our artificial intelligence and our tax consultants.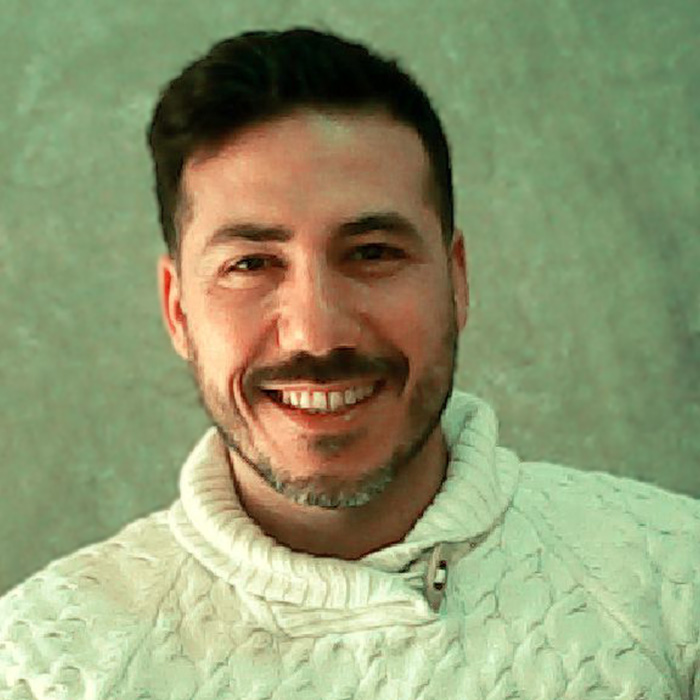 Book a free consultation
Our VAT experts are happy to help you. Book a free consultation today!
Our software also helps you with VAT registrations, your correspondence with the tax office and sends you notifications if tax payments are ever due.
Our tax solutions at a glance:
VAT registrations: Registration of VAT number online throughout Europe.
Advance returns: Processing of all reports and advance VAT returns
Threshold Limit Monitor: Monitoring of all sales, goods movements, delivery thresholds, etc.
Tax Advisor: Tax advisors throughout Europe provide quality assurance.
Tax Letter Inbox: Automated correspondence with tax authorities within the EU.
Here we show you an overview of all services. So that you can be on the safe side with your sales tax.
Summary
Amazon FBA continues to grow in popularity. Many of the tedious tasks that usually come up as an Amazon merchant are simply taken away from you by Amazon – and with our software, even your effort for the topic of accounting is reduced many times over. Right now, you're benefiting from a huge growth spurt in e-commerce – not only on the merchant side, but especially on the consumer side.
Starting your own Amazon FBA business isn't that hard, it just involves some work that you should tackle diligently one by one. First and foremost, there is the company formation and product development that you should take care of.
Once the business is up and running and the legal and tax issues have been addressed, you can find and develop your product – and with it the deciding factor for your success or failure. Find products with a comparatively high demand and a comparatively low competition and create the perfect Amazon listing for your product.
If you prepare properly and stand out from your competitors with your unique selling propositions, you can achieve high sales. The right tools will help you not only to find the right products, but also to control your accounting or to prove the right nose in pricing.
We hope we could help you with our Amazon FBA Guide 2021 and wish you success in applying our tips in your future business.
You are looking for tax experts who handle your vat registrations, filings and reports? Get a free consultation from hellotax.
Frequently Asked Questions
What is Amazon FBA?
Amazon FBA is a service from Amazon, where Amazon takes care of the processing of your orders. So you no longer have to worry about storing your products, shipping them or returning them, and you pay a fixed monthly fee for it. 
How does Amazon FBA work?
If you have registered as a merchant for Amazon FBA, you must first send your goods to Amazon, which will eventually store them in their warehouses. When customers order products from you in the future, Amazon will take care of processing those orders on your behalf. All you have to do is find products and market them properly. 
How do I start with Amazon FBA?
To get started on Amazon FBA, you must first register a business, apply for your tax numbers, and finally register for Amazon FBA. You have to find a suitable product, deliver the goods to Amazon and finally sell them properly. Amazon will eventually take care of the fulfillment for sales.
How do I make money with Amazon FBA?
You offer your products on Amazon as an FBA seller. You will achieve particularly high sales if you offer products that are in high demand with low competition or if they have USPs that your competitors do not offer. For retailers, complex and cost-intensive issues such as storage or shipping are eliminated by the Amazon FBA service.